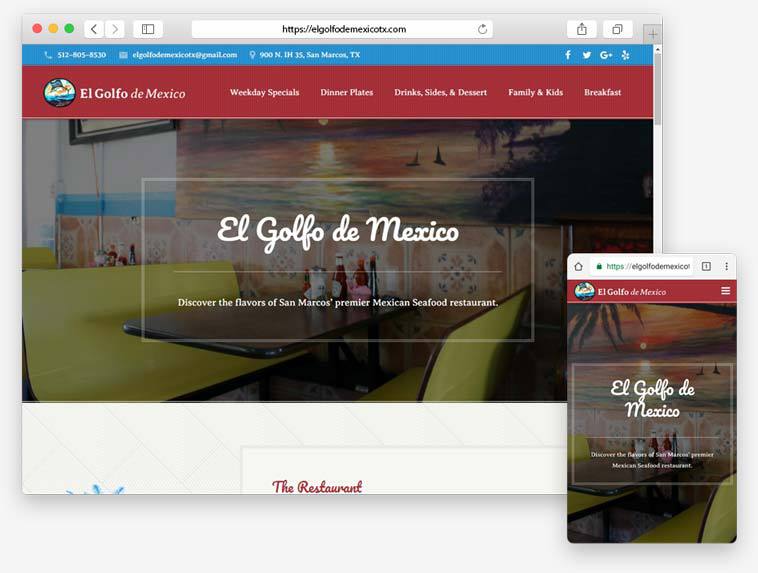 Tapping Into a Unique Market
El Golfo de Mexico is a local hole-in-the-wall restaurant serving home-style Mexican seafood recipes to residents of San Marcos, TX. While they had a reliable source of business from locals and regulars, their complete lack of web presence meant they were missing out on all kinds of new customers who would be interested in their unique market.
Our task was to bring their unique menu and style onto the web in a way that presented everything in a clear and well-organized way.
Menus Built for the Web
Rather than devoting a single navigation tab to the menu and organizing everything within that a single tab, we gave every major menu section its own tab, allowing users to get right to where they need to be more quickly.
Another convention we made a point to buck was the use of image or .pdf formats for the menu. While these are extremely common, they present major usability issues for mobile users who will need to zoom and pan to read the menu, as well as for screen reader users who have no way of accessing image information. We re-built El Golfo's menu from scratch for the web using html, so the text information can be accessed by screen readers and presented well on any screen size.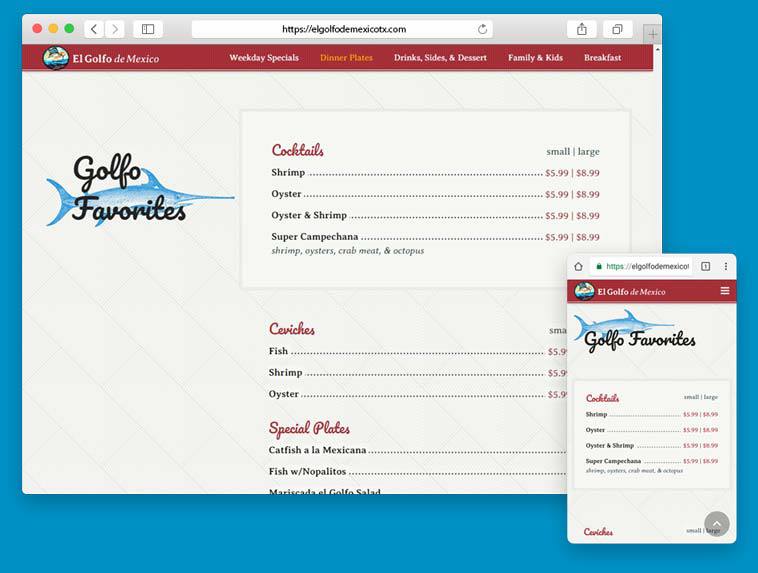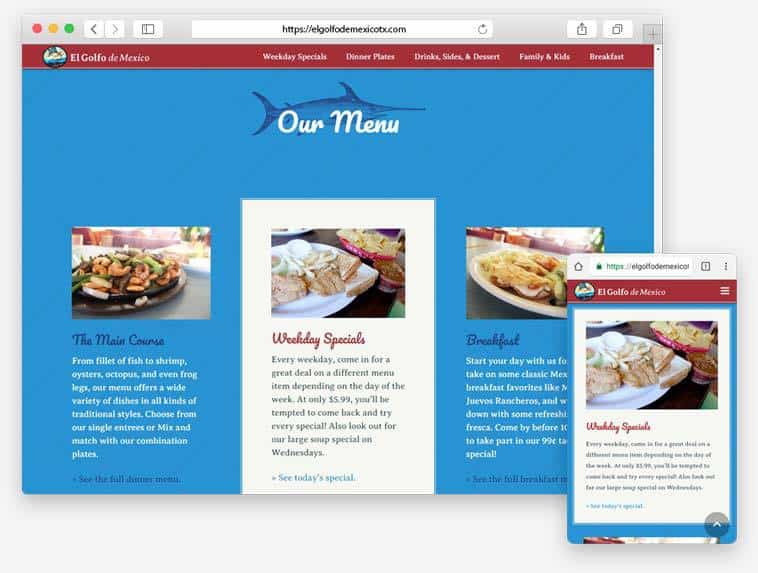 Capturing the Restaurant's Character
Even before entering the restaurant, one thing that stands out about El Golfo de Mexico is how colorfully decorated the building is inside and out, reflecting the plethora of colorful dishes they serve. It was important for us to capture this color and character in their website, so we pulled colors and textures directly from the building's exterior. The blue and white are textured to resemble the surface of a wall, with framed content appearing to hang on those walls. Red accents were pulled from the building as well, creating a nautical feel when it all came together.
Calling Back to Tradition
For the typography, we needed a system that was easily readable while still fitting into the rustic nautical feel of the site. We chose the Google font Pacifico for large headers, as it evoked traditional sign painting when set against the site's texture. We used Averia Serif Libre because, while it retains the classic simplicity serif fonts pull off so well, Averia in particular has a very organic, rustic feel that went well with the hand-painted look we created for the site.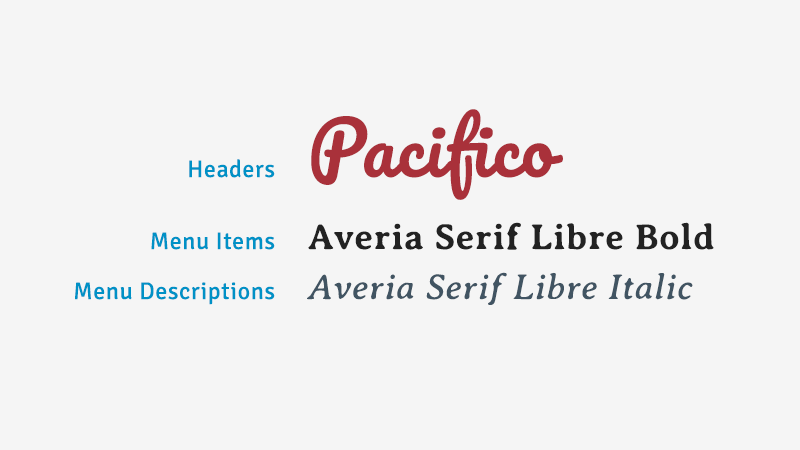 A Fresh Haul from the Archives
Some menus can be flooded with food photography, feeling the need to offer literal depictions of as many menu items as possible. What these menus fail to understand is the value of leaving all this food imagery to the viewer's imagination. For this reason, we chose to use illustrations of ocean life rather than photographs to depict the food dishes in a way that leaves the food itself to the viewer's imagination.
In keeping with the feel of the rest of the site, we wanted traditional illustrations rather than contemporary and digital ones. We looked through historic files in the creative commons of the British Library on Flikr and found a suite of beautiful, nautical engravings to suit the site's needs.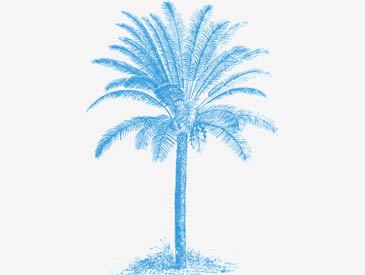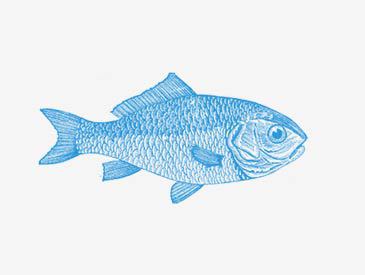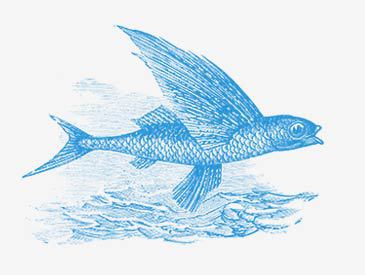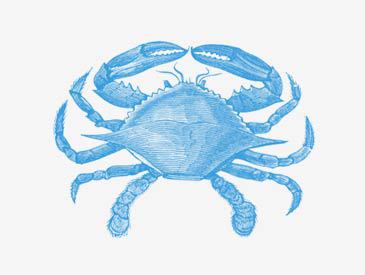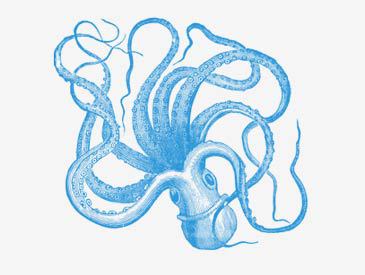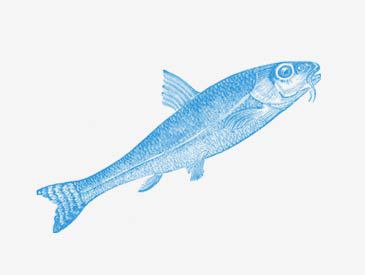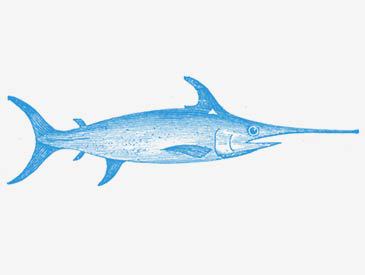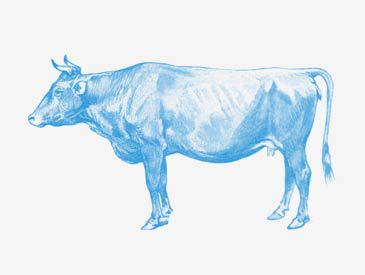 Open Shutter, Open Window
While we didn't want to saturate the menu with too many photographs, we still understood the importance of giving viewers an idea of what it's like to be inside the actual restaurant. To accomplish this, tekRESCUE went on-site twice to photograph key dishes in the restaurant environment. We used these photos as large header images, providing a window for viewers to see what El Golfo is like in person.