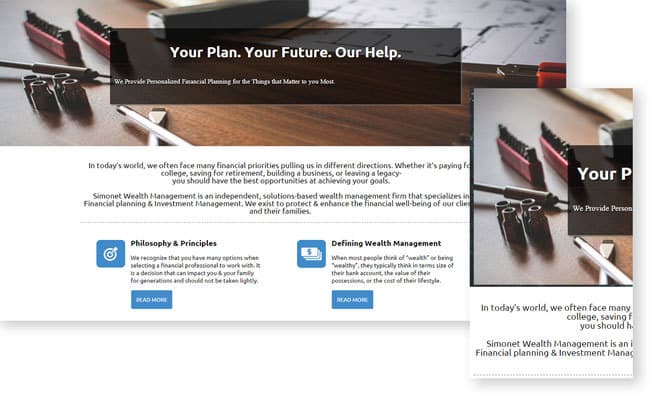 The Client
Simonet Wealth Management is financial wealth management firm passionate about helping other find a financial plan that works for them. Simonet's previous site was clunky and cluttered, with no narrative to drive the user to call for a quote. Our goal was to help create a story that Simonet's target audience could relate to, and enforce the importance of planning for your future.
Overhauling the Grid
The main reason the client contacted us was that his current site wasn't working properly on mobile devices. Rather than a responsive site that adjusted itself to different screen sizes, his site was being displayed at a fixed width and feeding a simplified, paired-down version to mobile browsers. Our first task, then, was to optimize the site to appear properly on all devices.
When we began the task, however, we soon realized that our client's current site was inadequate and wouldn't be able to give the client what he needed from it. Realizing we would have to completely re-design the site's grid structure in order to make it as flexible as we needed it, we got to work planning out a new percentage-based column system which we used to overwrite the existing grid styles.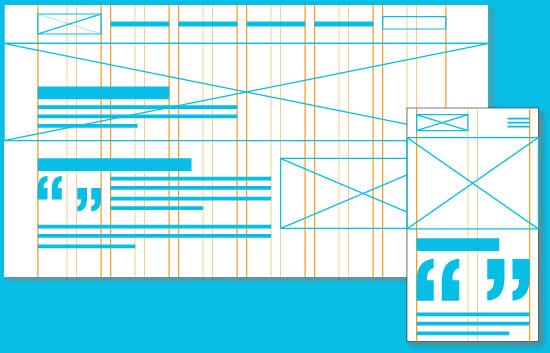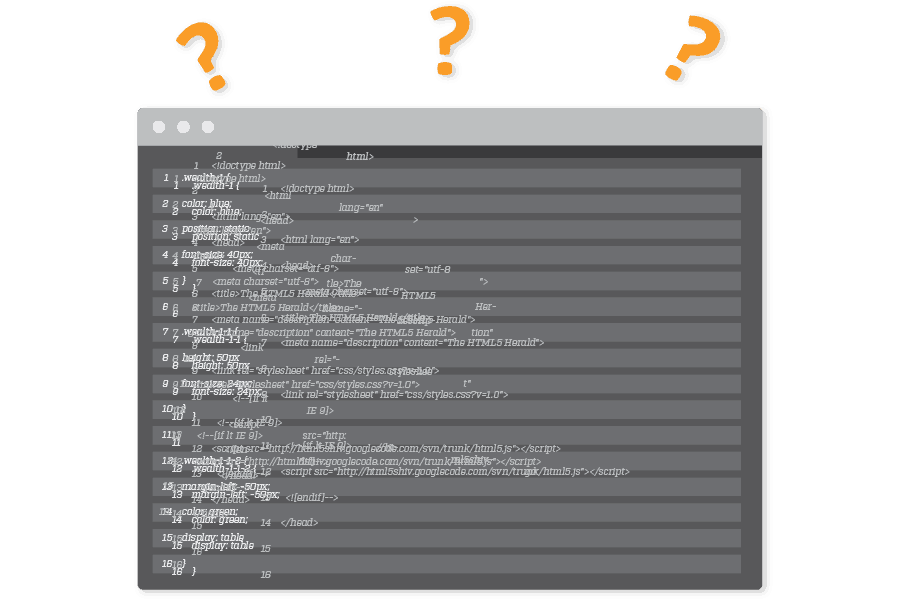 Overcoming Technical Difficulties
There were, however, a few difficulties we encountered along the way. One of them was working with a Content Management System we were unfamiliar with, as our client's site was built on Adviser Websites using a version of Drupal. Finding a way to execute our design plans while working within the CMS's block system proved to be challenging, but we found a way to make it work.
Another difficulty was the fact that we weren't the first team to touch this site. There had been work done by previous parties and, by the time it got to us, the markup and styling had become needlessly complex and muddled. This proved difficult to work around, and we eventually had to remove most of the previous work and build it back up with our own styling system.
A Design System from the Ground Up
This styling system consisted of repeating elements to tie the site together and keep our new CSS as elegant as possible. Our client gave us a lot of freedom with this project, so we came up with a brand new color scheme, typography treatment, and art style for the icons and accents.
This project did seem restricting at first. But our client gave us a lot of freedom with the design process, so re-building it from the ground up allowed us to flex our creative chops to custom craft a truly unique and beautiful solution.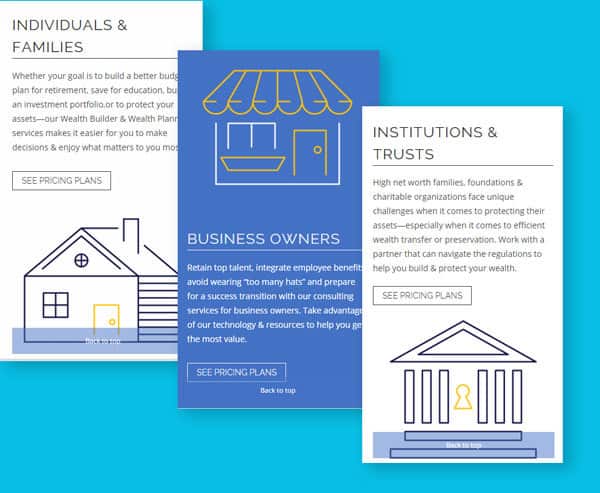 A Story Tailored to the Client
This site needed a lot of information and content. It needed to let clients know exactly what services the company offered, but all this new information risked becoming too much for new clients. How would we get each visitor the info they needed without confusing or overwhelming them?
Our solution was to organize the information into 3 different client groups. After giving an introduction to the company, we gave site visitors a choice to see services for either individuals, small business owners, or large institutions; this way, each visitor would only see the services most relevant to them.